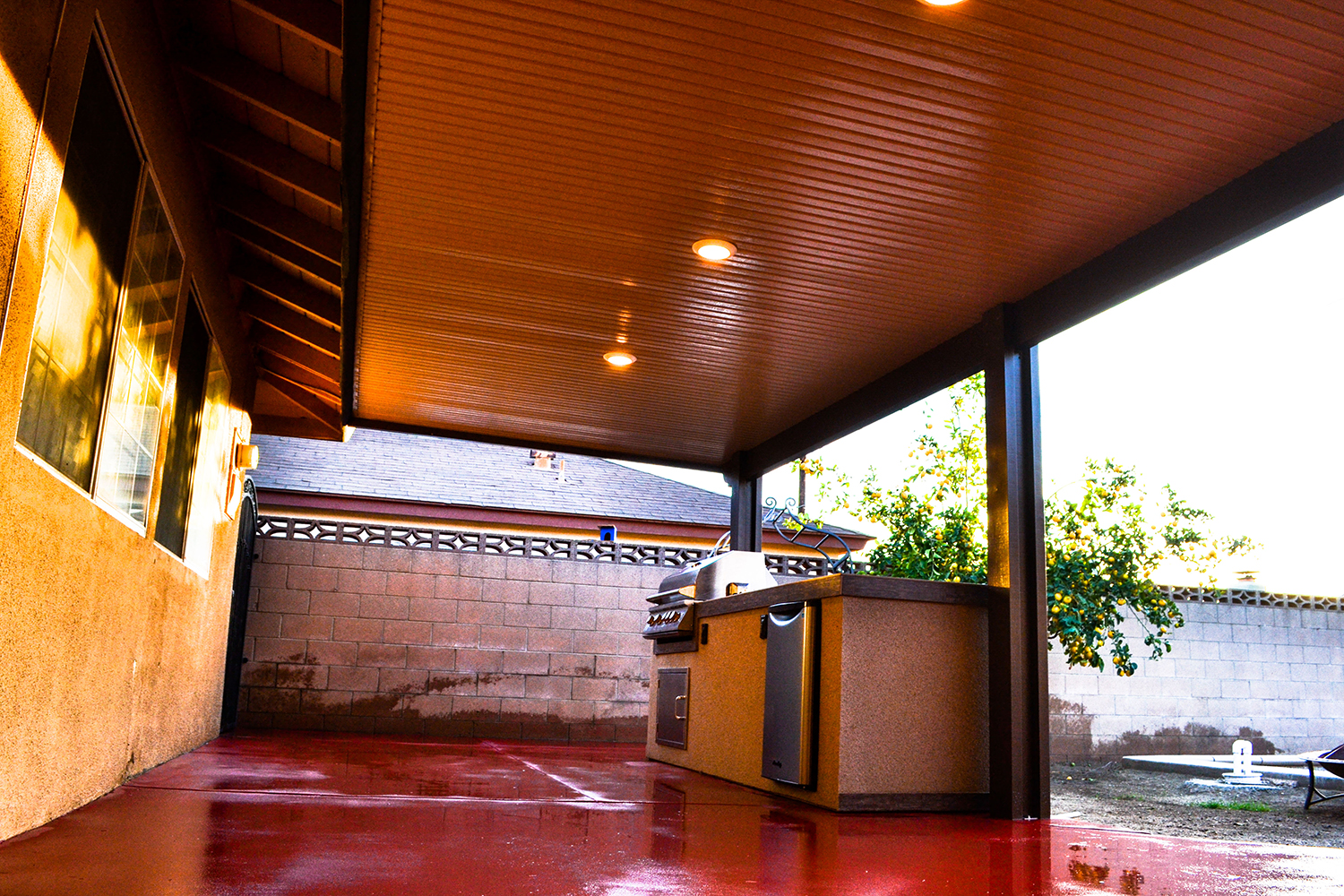 The Best Quality Products
Our clients came in to our store and were the nicest couple you could possibly ever meet. We sat down with them after they have visited several stores and discussed several ideas for their backyard. After figuring out their needs and wants we began to design a simple but fully functional BBQ island for their space. We designed a few different styles based on the ideas they had and we came up with this spectacular design.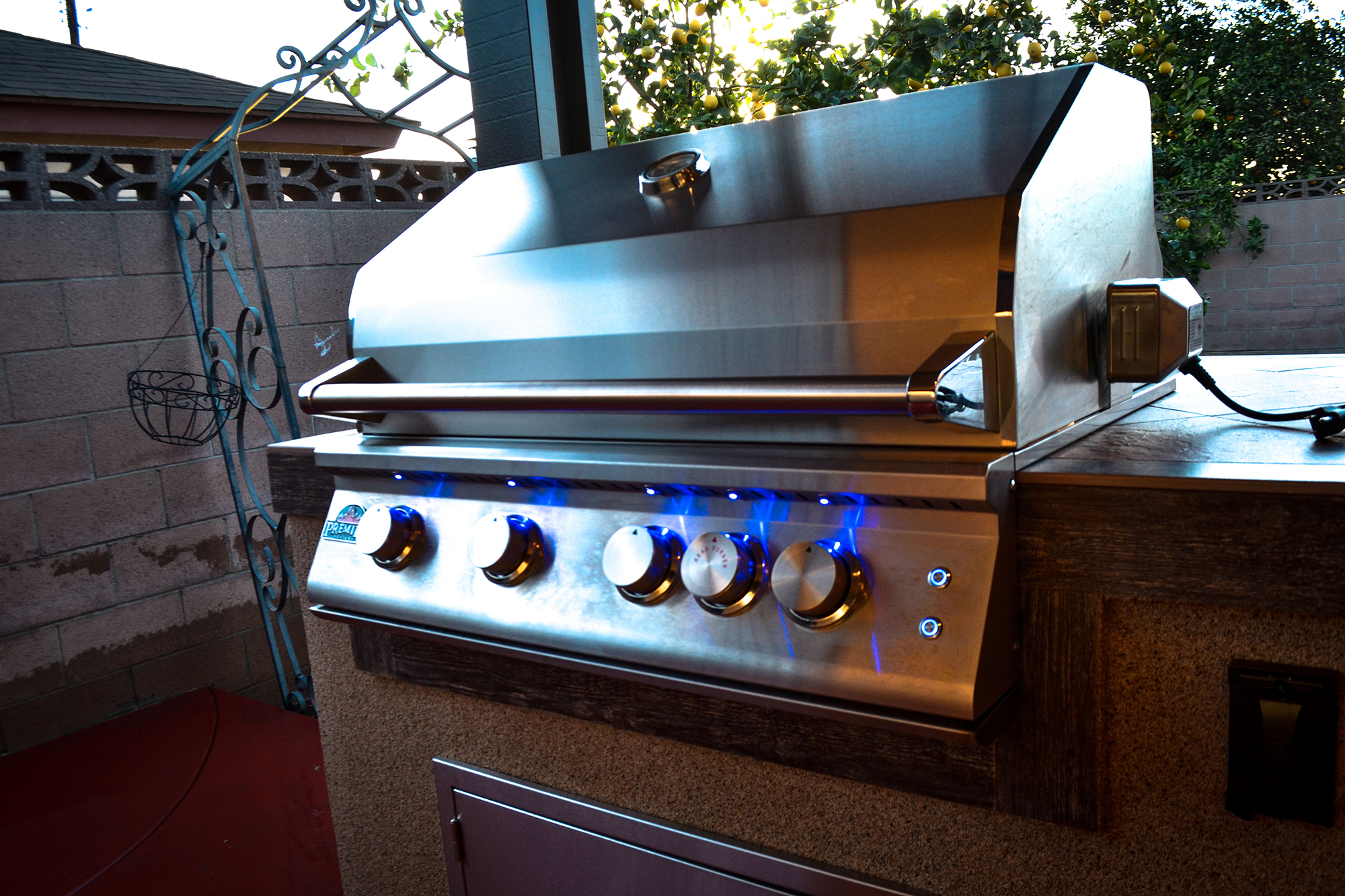 32" Premier Built In BBQ Grill
The grill they chose was the 32 Premier Grill which is one of our best selling grills. Premier Barbecues add quality, value, style and durability to your outdoor living space. Each Premier Barbecue is sold standard with solid stainless knobs, a liquid propane converter (flex hose not included) and a double-lined hood for durability and heat retention. Our 32" and 40" units also include a rotisserie kit, rear infrared rotisserie burner and built-in interior halogen lights.
All Premier Barbecues have standard, full-width pull-out grease trays that are built from 304-stainless steel. Our barbecues utilize flamethrow ignition to ensure your grill fires up every time.
All Premier Grills are built to the industry's highest standards of quality, with a clean finish and solid-weld construction. All grills and components are constructed from marine grade 304-stainless steel, giving you years of life for your grilling needs.
All burn tubes are covered with heat distribution plates made of 304-stainless steel allowing even more heat distribution evenly across the burner. These will prevent unwanted hot spots and grease flare-ups from your food.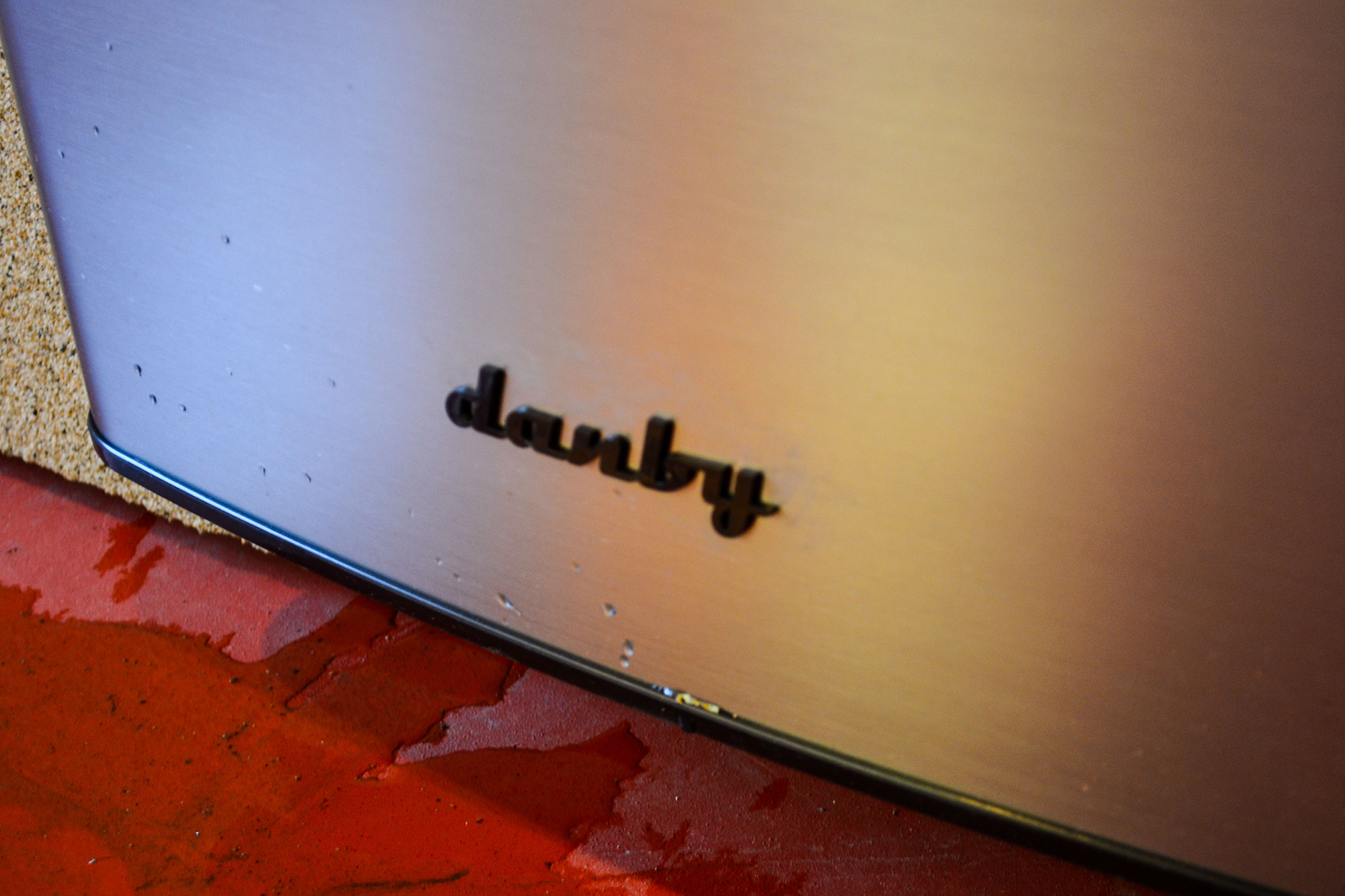 Danby Outdoor Fridge
With the addition of this sleek Danby outdoor refrigerator, of course! Tested to operate in a tropical environment, this unit is made for durability in exterior conditions and functionality in entertaining atmospheres. Featuring Danby's exclusive Contemporary Classic retro-inspired curved door design, rubber-grip ergonomic handle and stylized worktop, its exterior features are only outmatched by its signature interior. Boasting 4.4 cubic-feet (124 liters) of storage and cooling space, it features two and a half tempered glass shelves for maximum storage versatility and a see-through vegetable crisper with glass top.
There's more than enough room for larger bottles and the spacious unit helps keep electricity bills in check with its Energy Star rating and state-of-the-art mechanical thermostat. Maintenance and cleaning are as simple as can be with the automatic defrost system and spotless-steel finish. It also includes an efficient CanStor® beverage dispenser and reliable LED interior light. This model is built for convenience as the reversible door hinge allows you to adjust it for either left or right-handed opening. This esteemed refrigerator also comes with a worry-free 12-month warranty on parts and labor.
Features:
4.4 cu.ft (124 L) capacity compact all-refrigerator
4 castors featuring stainless steel ball bearings for rust-resistance
Tested for cooling capacity in a tropical environment (109°F / 43°C)
Rated to IPX4 water ingress protection for safety
Waterproof electrical housing
UV protected plastics
Environmentally friendly R600a refrigerant
Spotless steel door finish - looks identical to real stainless steel but without the smudging
Automatic defrost
Rubber-grip ergonomic door handle
Vegetable crisper and cover
2 full width and 1 half-width adjustable glass shelves
Integrated door shelving with tall bottle storage
CanStor® beverage dispensing system
Mechanical thermostat
Interior LED light
Scratch resistant worktop
Integrated door lock
Reversible door hinge
Crystal clear food grade waterproof ice bucket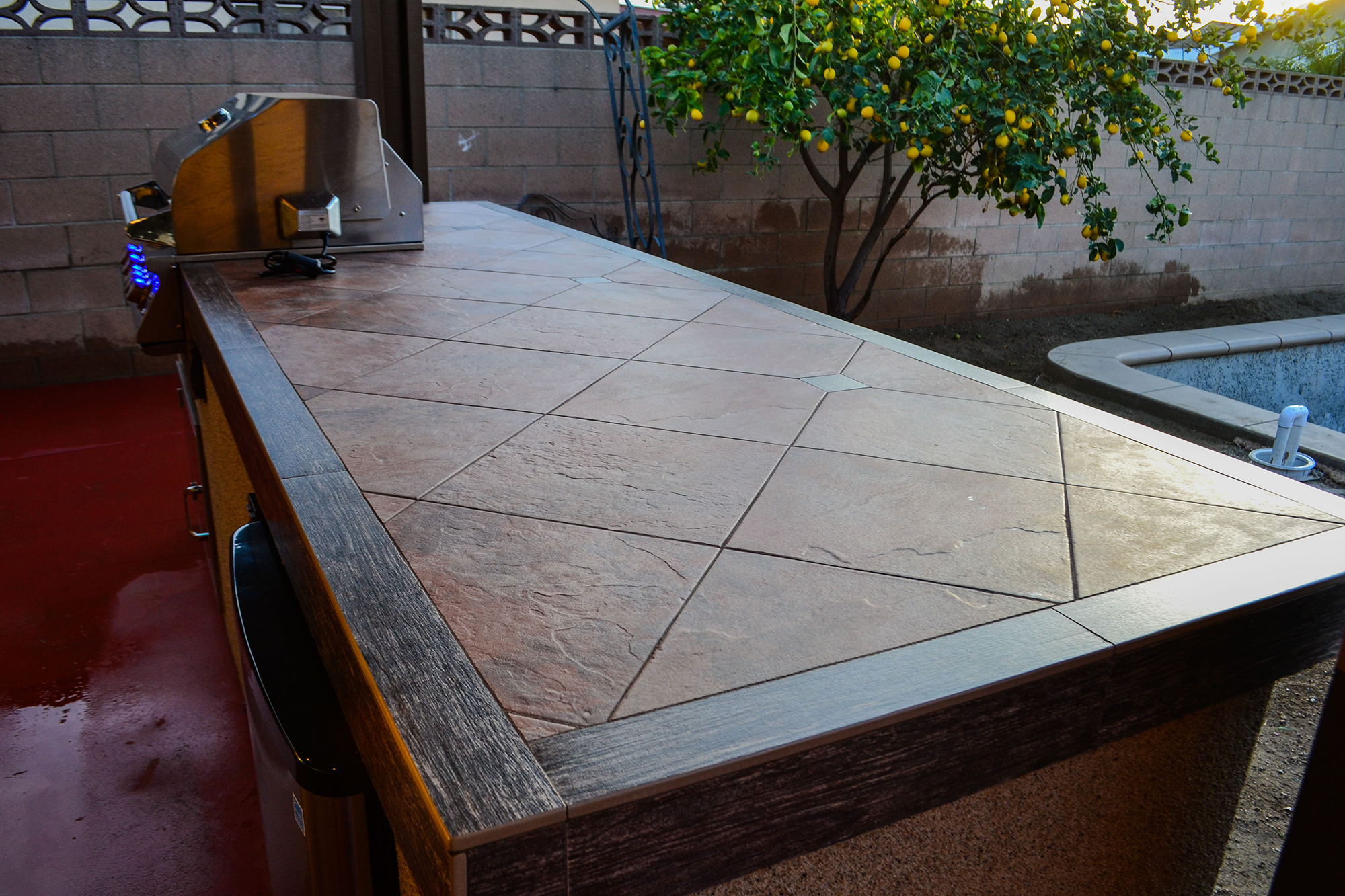 BBQ Island Tile Chosen
Country Zora Porcelain Tile:
With subtle detail, Country™ replicates natural wood with a lightly textured surface. With a neutral color palette from light to dark, Country™ can be used in rustic or modern settings.
Bombay Thane Porcelain Tile:
Bombay™ is a porcelain tile collection having the characteristics and feel of a calibrated and gauged slate with authentic variation and a textured surface.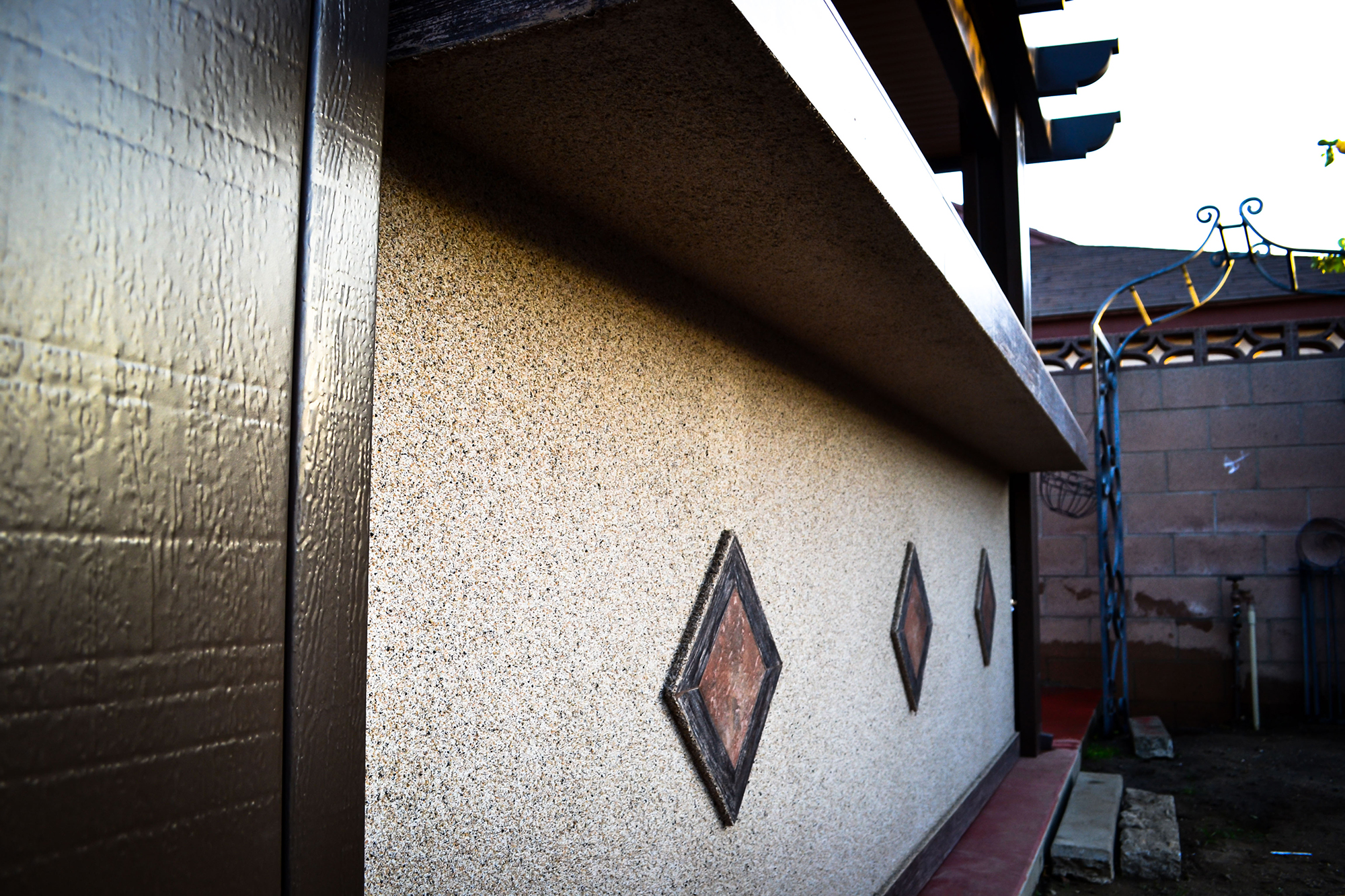 Stucco Color
401a Pretzel
Our customers chose matching stucco color from their home. They color gives it contrast between the concrete and Patio Cover.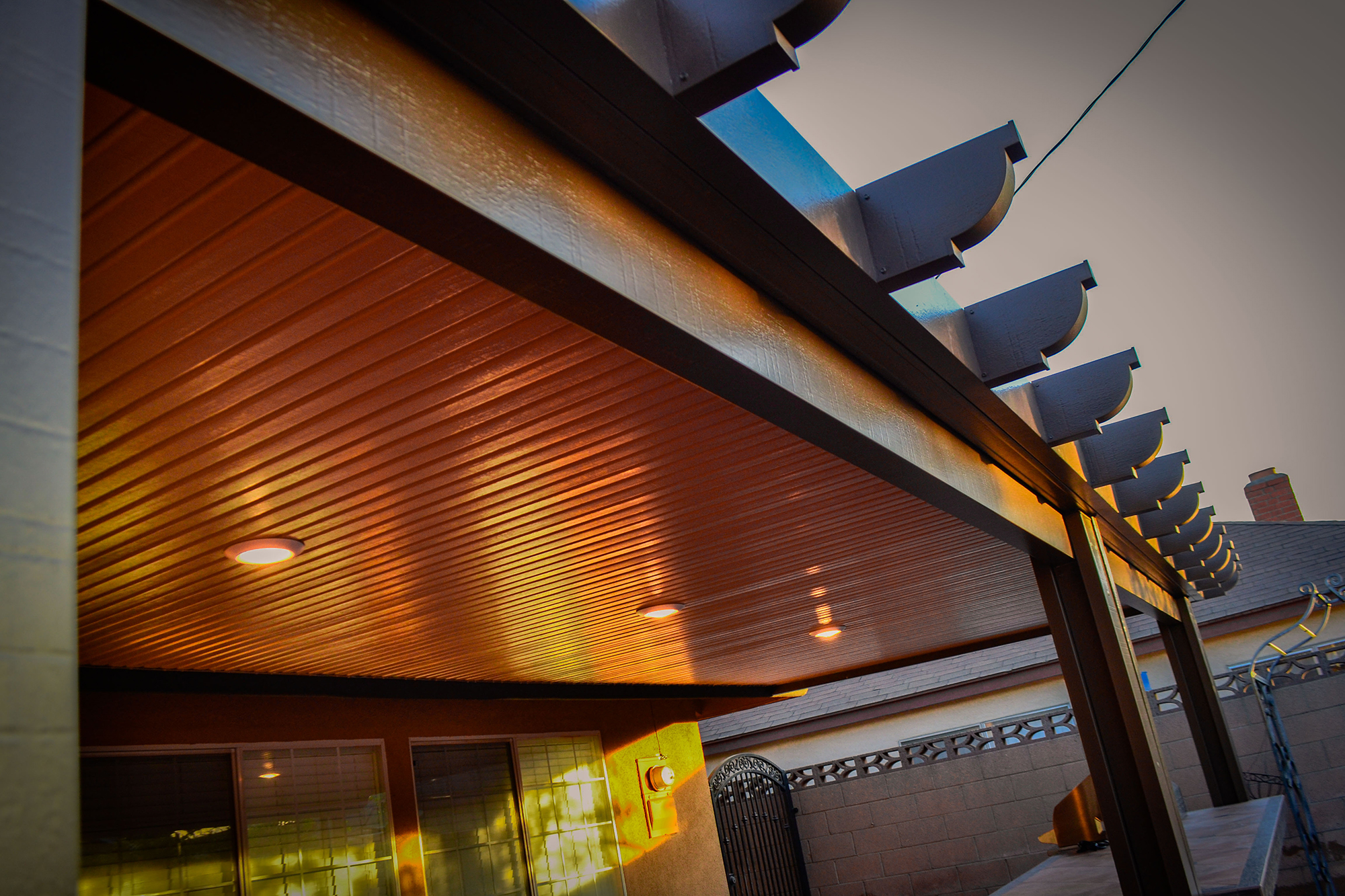 Custom Patio Cover
Weatherwood - features a low-maintenance, durable DuraTough Coating™ surface protection finish. DuraTough Coating™ is universally recognized for its non-stick properties, heat resistance and resistance to corrosion. Its surface protection enhances resistance to dirt and stains for easy-to-clean performance. All designs are engineered to meet or exceed State, County and local building codes, including winds up to 130 MPH and seismic activity Category D.
The Californian
The Californian Patio Cover affords you total shade, and again with that rich look of real wood and the durability of high grade aluminum. If it is year around shade you are looking for, The Californian is the answer you have been looking for. You have your choices of either the traditional "strait look", or the total look of wood by adding some Weatherwood® Rafter tails. You may choose from a variety of Rafter Tail Ends; Scallop, Corbel, Miter or our distinctive Bevel Cut end. Again, the choice is yours.
Features:
Lighting
Switches
Post Lights
Outlets
Roman Columns 10" Square
Lifetime Warranty