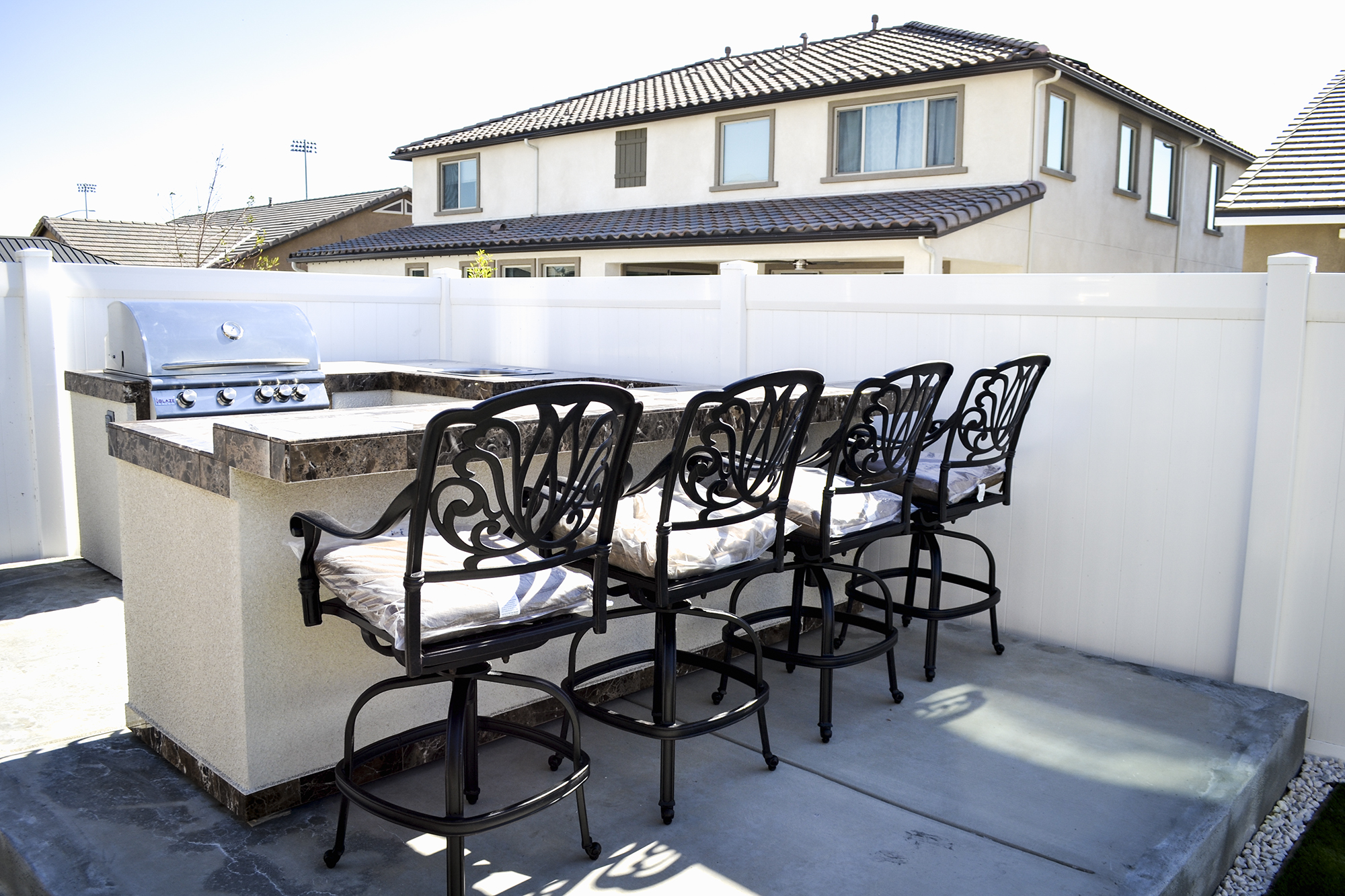 The Perfect Outdoor Kitchen
We completely designed our customers Outdoor Kitchen in Jurupa Valley, Ca and the design fit perfectly with their style. This family had an area in their backyard and they wanted ideas to what should go. Once speaking with them for about 45 minutes and discussing option for their backyard, we came to the conclusion of which an Outdoor Kitchen would be perfect for them. After going over size to fit exactly in the space we went over Appliances. They ended up going with Storage and even a trash can which saves your from having trash build up in the open. Check out the features: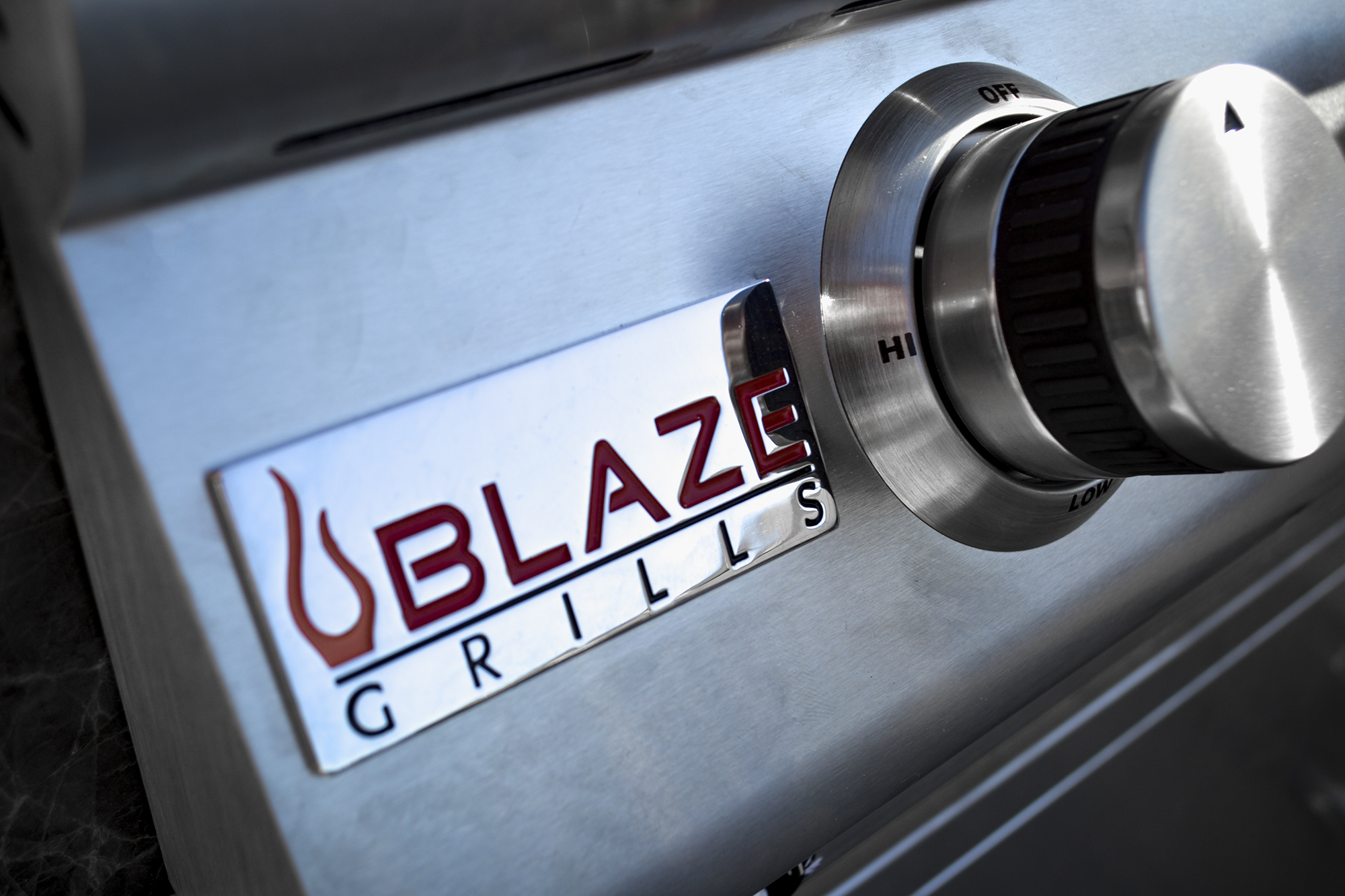 32" Blaze Grill
Blaze introduces an affordable commercial style grill that was designed with your outdoor BBQ challenges in mind. This Blaze 32-inch built-in gas grill comes with four (4) commercial quality 304 cast stainless steel burners that each deliver an impressive 14,000 BTUs of cooking power, for a total of 56,000 BTUs on the cooking surface. The 10,000 BTU infrared rear burner works great with the optional rotisserie kit for grilling versatility. Durable 8mm stainless steel cooking rods maximize your searing capability on the spacious 748 square inches of cooking space. Push and turn flame-thrower primary ignition, backup flash tube secondary ignition and crosstubes ensure a steady, reliable flame with every start.
The removable warming rack is an ideal place to keep bread and other food heated while you grill. The stainless steel heat zone separators allow for different cooking zones across the grilling surface. This adds to your grilling experience, creating separate zones that can be used for different styles of cooking. The flame stabilizing grid minimizes flare-ups while you enjoy your Blaze grill and the full-width drip tray makes clean up a breeze. The 304 stainless steel grill hood is double-lined to protect the outer layer from heat discoloration, keeping your Blaze grill looking shiny and new!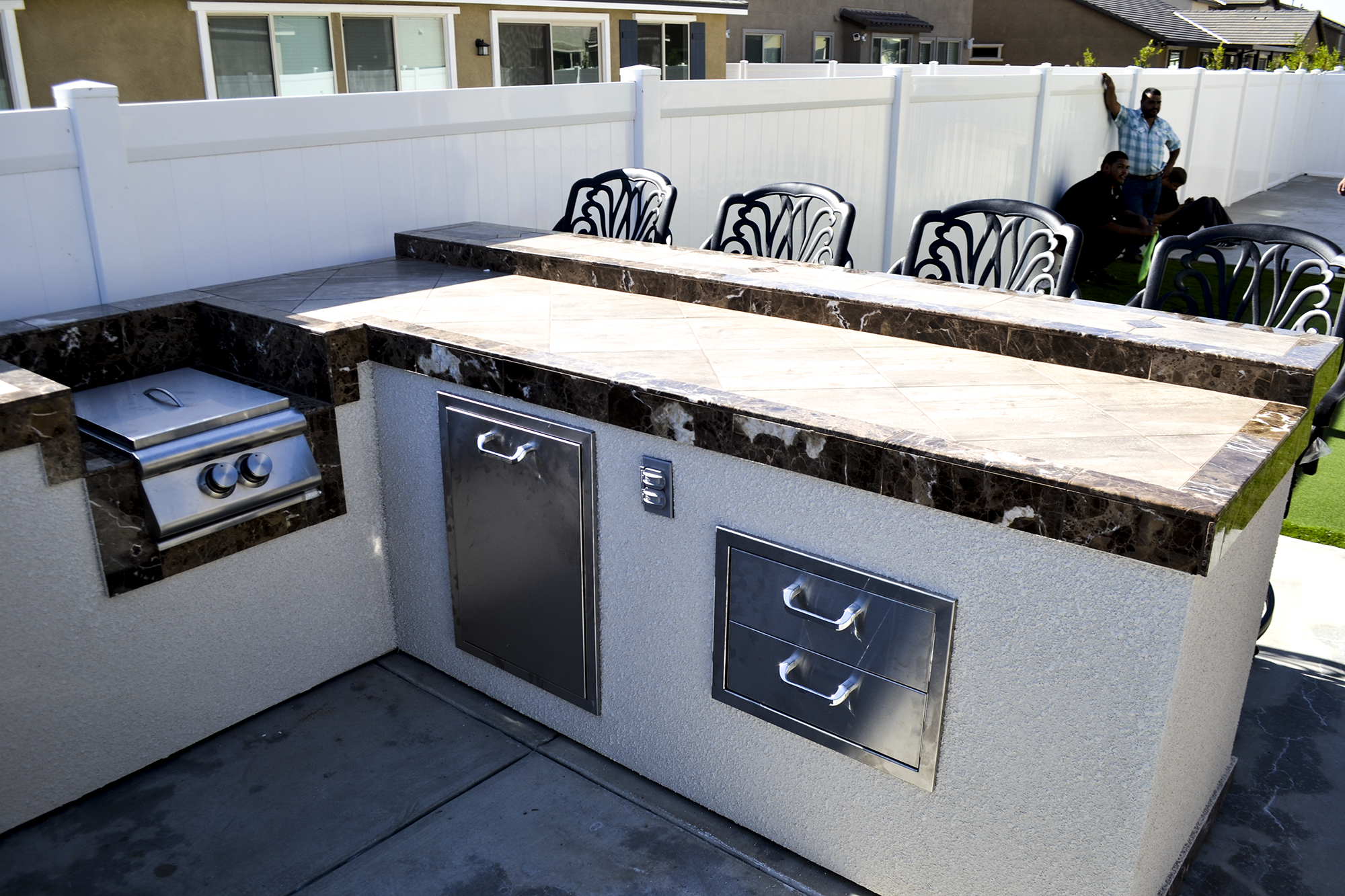 Blaze Double Side Burner
The Blaze Natural Gas Double Side Burner features two heavy duty 12,000 BTU brass plated burners for enhanced performance and superior heat retention. This precision cut side burner is made of stainless steel and will provide you years of outdoor cooking enjoyment. The side burner features a raised cooking grate which helps provide better airflow around the burner for optimal cooking performance. The stainless steel cover protects the burner when not in use and features a curved handle to match other Blaze products. Ignition is made easy with push and turn knobs that offer a reliable flame with every start and the full-width drip tray makes clean up a breeze. If you are looking to create a gourmet outdoor meal complete with soups or side dishes, a built-in side burner is the ideal addition to your outdoor kitchen.
Warranty
Blaze side burners have a lifetime warranty that warrants against any defects in the manufacturing and workmanship on the control valves, cooking grid, stainless steel housing, stainless steel burner and all other stainless steel components. The control valves are warranted for fifteen (15) years while electrical and ignition components are covered for one (1) year after the date of purchase.
Features:
Brass plated burners provide superior heat retention
Stainless steel construction is durable in outdoor conditions
Removable stainless steel cover shields burner from outdoor elements when not in use
Full-width drip tray makes clean up a breeze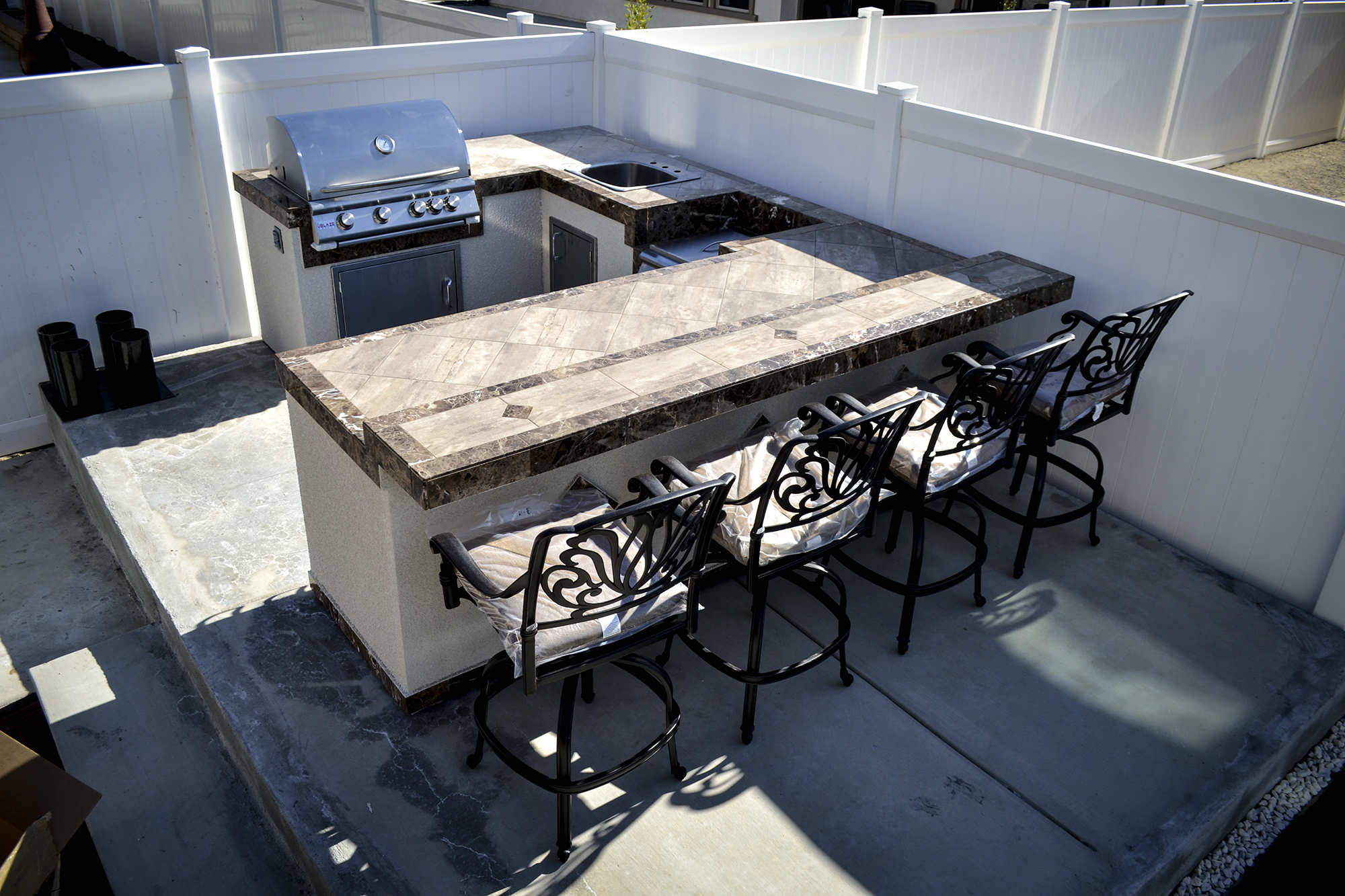 BBQ Island Tile Chosen
Country Zora Porcelain Tile:
With subtle detail, Country™ replicates natural wood with a lightly textured surface. With a neutral color palette from light to dark, Country™ can be used in rustic or modern settings.
Bombay Thane Porcelain Tile:
Bombay™ is a porcelain tile collection having the characteristics and feel of a calibrated and gauged slate with authentic variation and a textured surface.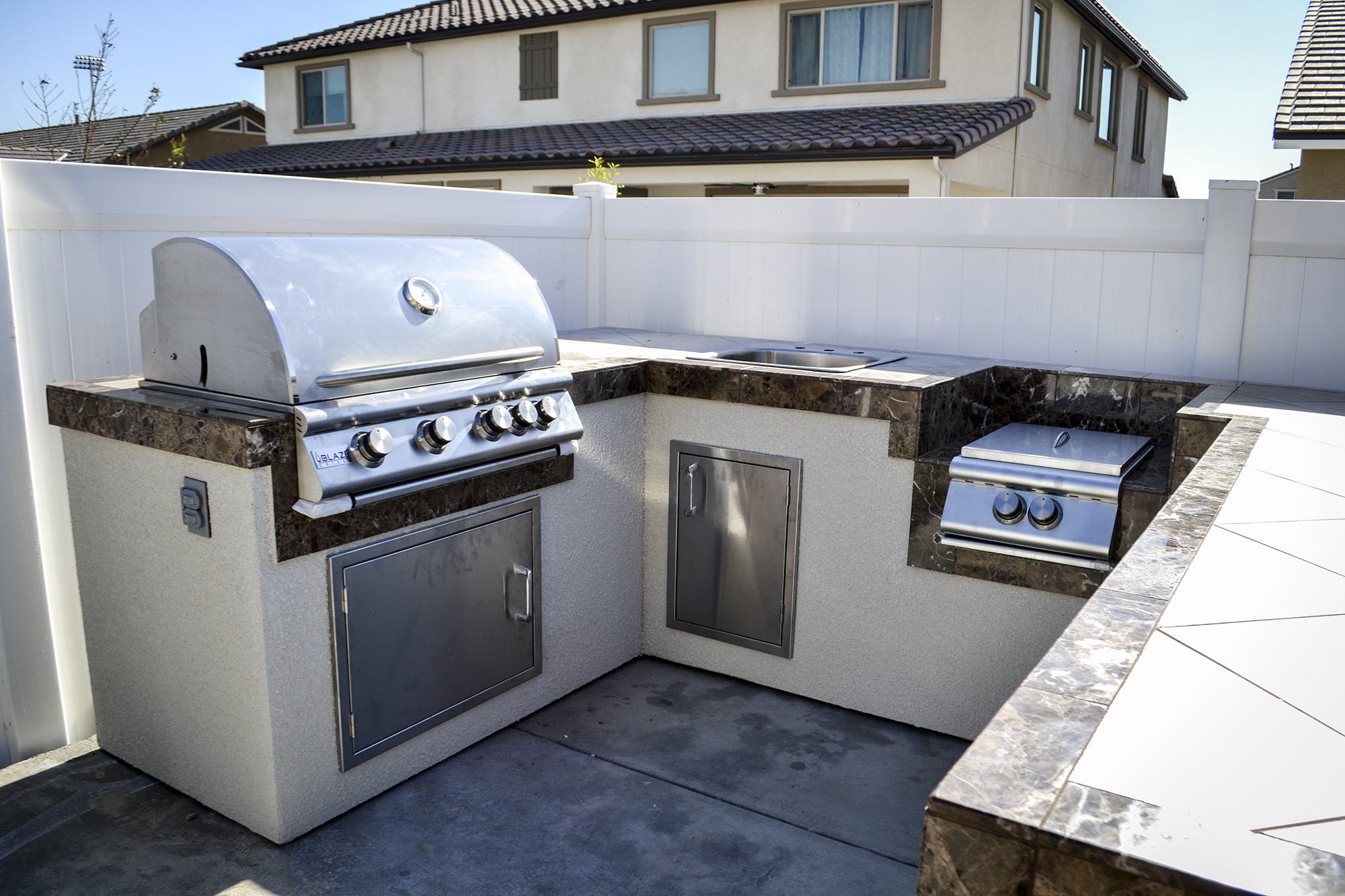 Sink, Trash Rollout & Drawers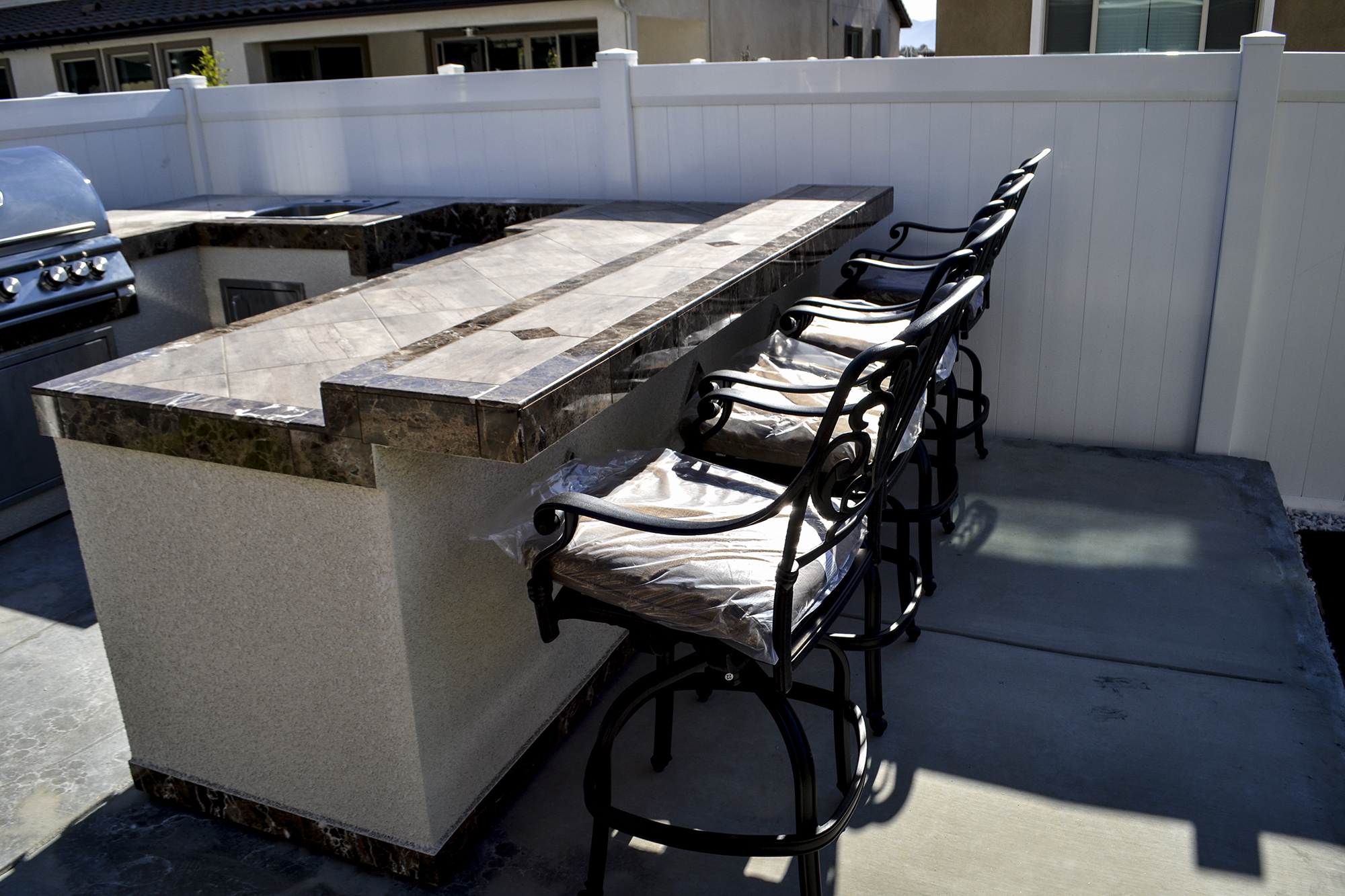 4 Darlee Elisabeth Bar Stools
Darlee is one our leading patio furniture manufactures we carry for over the past 10 years. There design and quality is ahead of none. Cast aluminum is known for its durability which is why our customers love this brand.